Hello Again My Sweetness!
Well TASCHEN has done it again! My BOOK 'Vanessa del Rio 50 ears of Slightly Slutty Behavior is in the 3rd Printing in a smaller format. It is COMPLETE and YES! With the 140 Minute DVD! You will only get it AUTOGRAPHED form Me and if you are form OVERSEAS and want My book please DirectMessage me on TWITTER https://twitter.com/vanessadelrio and I will let you know how to get it VIA PayPal

I also added lots more pix to my collection so you have lots to choose from, I just added some more recent pix that I hope you'll like. Is there any particular pose of special personal item of mine you would like to have?---My Stockings? Full Fashion, Fishnets, Lace top Thigh Highs?---My Panties?---My Bra?
Contact Me for Pricing and Payments

Enjoy Collecting My Memorabilia I Like to know I bring a Sexy Naughty Smile to your face & MUCH MORE further DOWN!! *wink*
Lets stay in touch my newsletters go out about 2x a month or so
Xo Lusty Sweet Wet Kisses & Tight Sexy Hugs
My (eBay) Memorabilia Newsletter
VdR Memorabilia COLLECTION! -Some Items Will BE (1) ONE OF A KIND

Also Checkout My Offers Page http://www.ebay.com/sme/vanessa_del_rio/offers.html
10% Off $75+ & 20% Off $100+ That's a GREAT Deal Darling!
I have so many great pix to add, you should see my upstairs office…its literally covered with all the pix from my trunk. It's not easy to choose which ones to put for you up so I hope you are enjoying the ones I have! ;-) You can always eMail me via eBay if there is a particular type of pose you like and I'll see if I have it. BOOB Man? Leg Man? Ass Man? (Darling don't forget to do the ADULT VERIFICATION Click so you can see everything I have for you!)

A good time to get My BIO Book!...As of this newsletter there is ONLY 1Left and this COLLECTORS Edition will be gone forever. Check my store by 'My BIO BOOK' Vanessa del Rio 50 Years of Slightly Slutty Behavior!! Shipping is FREE Plus I'm adding 2 FREE DVD's from My Collection!

Enjoy Collecting My Memorabilia!
Xo Lusty Sweet Kisses & Tight Sexy Hugs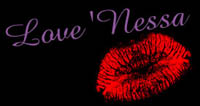 Visit My eBay Store...Loads of Collectible Memorabilia...Afterall I am Your
Mistress of Masturbatory Memories