Hi Sweet Meat!!!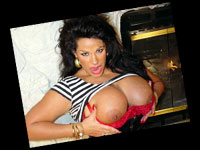 THIS SITE IS Web-Mistressed by ME PERSONALLY Sweet Meat...Enjoy!
I have over 300 Horny and Beautiful Women On multiple cams for over 1300
Plus Live Hours per month for YOU!
Welcome to Vanessa del Rio's hardcore sex site. See my vintage porn big clit mature porn star photos. This vintage hardcore mature pornstar sex site takes you through my career. I am told I am one of the greatest big clit vintage pornstars from the beginning to the present. This Big Breasted Latina pornstar has brought her big clit hardcore gallery's of sex pics and pornstar videos, movies and DVD to the masses for your pleasure. Enjoy Vanessa del Rio's huge big clit collection of Latina vintage hardcore pornstar photo gallery and sex videos and DVDs. If you have followed Vanessa del Rio's Vintage Mature Latina hardcore career and want to see her on Live WebCam or if you are new to this big clit Latina porn star you will enjoy these vintage big clit gallery's and pornstar videos. Check out Vanessa's online vintage pornstar store and if you have any special hardcore pornstar gallery requests for this Vanessa Del Rio vintage Latina pornstar sex site please drop us an email and Vanessa del Rio will try to accommodate you. Sign up now to Vanessa del Rio's hardcore big clit porn star sex site! and receive for free a vintage Latina pornstar big clit photo of Vanessa del Rio.
"All models were at least 18 years old when they were photographed."
18 U.S.C. 2257 Statement